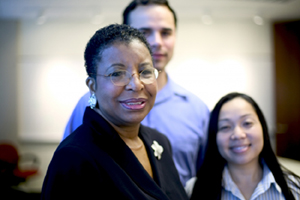 "I have had the opportunity to work with many vendors throughout the state of Ohio, and I can truly say without hesitation that I consider Career Assessment Systems to be the best in the state at providing comprehensive vocational evaluation services. I sincerely appreciate the enthusiasm of the entire staff and the level of professionalism in dealing with each of my referrals. My clients appreciate the flexibility in scheduling and being able to meet with someone in a convenient location. They take time to explain the evaluation process which helps to put my clients at ease. They continually go above and beyond the call of duty to get the job done and answer each and every question I provide them on my referrals. They are always readily available for consultation-I can go back to them at any time, even after a report has been reviewed with the consumer. They have been willing to take on some of my most challenging referrals. They don't give up, and because of that these people now have options that they never thought were possible. I am able to ask questions and any concerns are always immediately addressed. Most importantly the evaluators at Career Assessment Systems present realistic options for employment in the local labor market with solid recommendations. They are great people to work with and a truly invaluable resource."
-Ohio Rehabilitation Services Commission counselor
"You are the Best!!! I became familiar with CAS work when I worked for a company that strongly encouraged me to use their own services. Once I had a taste of CAS services, how could I regress to waiting 3 weeks for a vocational evaluation report? It would be a disservice to the clients I serve. For me to use other services when CAS offers the following:"
Continuous request for feedback and response to feedback regarding report format and content

The best quality reports I have encountered in my nearly 12 years of case management.

Immediate response to request for services

Ease of referral process designed for my convenience rather than CAS' reports that consider BWC guidelines in terms of recommendations, for example, amending training only when other avenues have been exhausted.

Scheduling is timely

Reports completed are timely.

Personable, qualified staff
-Bureau of Worker's Compensation Case Manager
"I am writing to compliment you and your staff on the promptness, clarity and accuracy of your "Vocational Evaluations". Your reports have been very helpful in assisting my consumers to develop appropriate plans to reach their vocational goals. Keep up the good work!"
-Ohio Rehabilitation Services Commission counselor
"I would like to introduce myself as a case manager who has 20 years of experience working in both the private self-insured and the State of Ohio Bureau of Workers' Compensation system. When you are working directly with injured workers under the auspices of a highly regulated State Bureau of Workers' Compensation system it is extremely important to establish a vocational rehabilitation plan that meets both time and quality requirements. I have had the opportunity to work with numerous vocational service providers over these past years. Quite simply, Career Assessment Systems sets the high standards for both timeliness and quality in the industry. I can ask for a vocational evaluation in three days to meet the plan/grid time requirements or I can request specific information that will affect successful job development and placement and my expectations are met or exceeded time and again. I have been pleased with the high level of communication and the individual attention CAS pays to detail. Even after services have been provided, Brad and his staff are immediately available in requesting information that would effectively change vocational goal options and labor market information based on physical capacity change."
-Bureau of Workers' Compensation Case Manager
"I have had the opportunity and pleasure for the last 2 years to work with and see first hand how Career Assessment Systems works. They are very thorough in their evaluation process and are more than willing to help if at anytime we need assistance to explain the results with our customers.
They are very prompt and cooperative, not just with us, but, with the customers as well. The evaluators and owners of the agency are very professional and caring individuals. I cannot say enough about CAS and their evaluators. We have been very pleased."
-Work Force Investment Act/One Stop Case Manager
"Career Assessment Systems staff's common sense and caring approach sets the tone for a productive, valuable meeting. data is provided regarding students' interest and aptitudes. CAS presents many career possibilities that will be appropriate for the student. Their insightful way of sharing "sensitive" material is impressive. Students, parents, and educators walk away from the assessment and conference feeling they have gained profitable, worthy information."
-Vocational Special Education Supervisor
"As VOSE Coordinator and assistant Principal of the Bedford School District, I have worked very closely with Brad Hale, president of Career Assessment Systems. We conducted over 150 conferences with students and parents to discuss the results of their career assessments. Mr. Hale and his staff are organized, efficient, and truly get to the heart of the matter. They present student information in a positive light; yet gives an accurate and realistic picture of the strengths and areas that need improvement. The technical skills combined with people and communication skills make Career Assessment Systems an ideal choice in pursuit of these services. In my opinion, Mr. Hale and his staff are true professionals."
-Vocational Special Education Coordinator/Assistant Principal
---
Contents Copyright © 2003 Career Assessment Systems. All Rights Reserved.
Phone: (330) 332-9577
E-mail: CVE7_4@juno.com